Aerial Art: 787 Outlines the Sky
Boeing Test team draws in the sky during 18 hour endurance test
August 03, 2017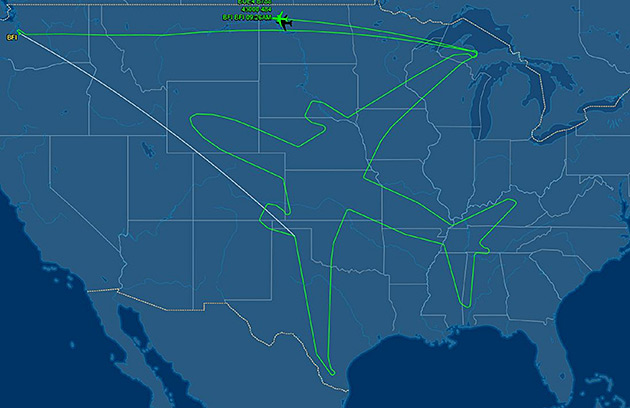 The aircraft's flight pattern recorded online.
With time to spare in the air, a Boeing test team got creative, flying a route that outlined a 787-8 in the skies over 22 states. The nose is pointing at the Puget Sound region, home to Boeing Commercial Airplanes. The wings stretch from northern Michigan near the Canadian border to southern Texas. The tail touches Huntsville, Alabama. The flight plan is visible using a flight tracking website like Flight Aware. The 787 Dreamliner is designed to allow carriers to provide more direct flights on long-distance routes.
Español
El patrón de vuelo de la aeronave se registró en línea.
Cortesía de FlightAware

Con tiempo libre en el aire, un equipo de pruebas de Boeing se hizo creativo, volando una ruta que delineaba un 787-8 en los cielos de más de 22 estados.
La nariz apunta a la región de Puget Sound, sede de Boeing Commercial Airplanes. Las alas se extienden desde el norte de Michigan cerca de la frontera canadiense con el sur de Texas.
La cola toca Huntsville, Alabama. El plan de vuelo es visible usando un sitio web de seguimiento de vuelos como Flight Aware. El 787 Dreamliner está diseñado para
permitir a los operadores ofrecer vuelos más directos en rutas de larga distancia.

fuente BOEING